<!– google_ad_section_start –>
If there's such a thing about fast food being comfort food then Chick-fil-A is it. It's been an Atlanta institution for the past six decades and the only one who can actually claim inventing the chicken sandwich. A very yummy chicken sandwich. It's made with real chicken breast fillet perfectly seasoned with the right blend of spices, ever so lightly breaded, then fried golden brown. There's nothing quite like it. And you must, must, try their chicken nuggets — tender morsels of nuggets that are made with, well, real chicken. Not formed chicken. They're great dipped in Polynesian sauce (their version of sweet and sour sauce) and accompanied by waffle-cut fries and the addicting freshly squeezed lemonade.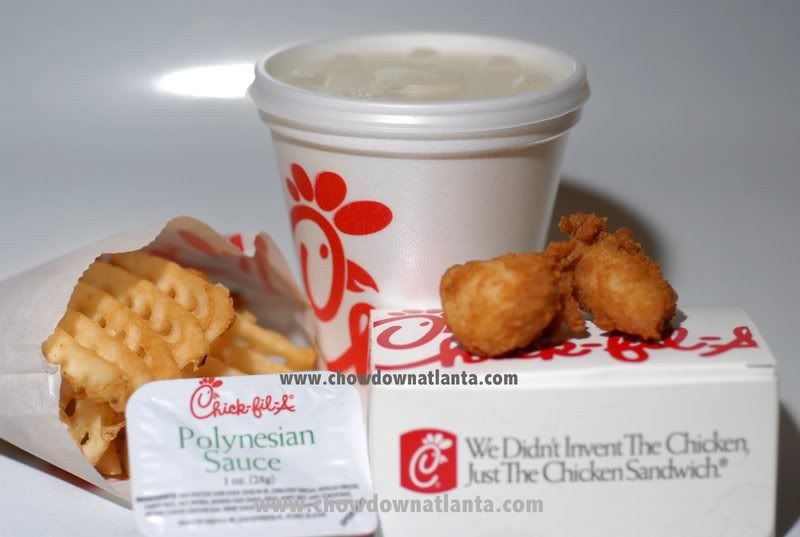 Insider Tip:
You can trade the kiddie meal toy for a small serving of soft-serve ice cream.
Heard somewhere that there's a branch at the NYU food court. I can't confirm. I'll have my brother check it out and report it here.
All locations are closed on Sundays.
Some locations accept orders made online.
The Scoop:
Find a location near you
Technorati Tags: Chick-fil-A, fast food, chicken sandwich, chicken nuggets, Atlanta
<!– google_ad_section_end –>
Related Stories: