<!– google_ad_section_start –>
It's sad that not much have been written about Ethiopian cuisine and, thus, such has not caught on in Atlanta as it should. To me, Ethiopian cuisine is fun; not only is it wonderful, it's an experience. Meals typically consist of stews called Wat and stir-fried meats called Tibs. Both are served on and eaten with Injera which is a flat, spongy, crepe-like, sourdough flatbread made with fine-grain flour.
Here comes the fun part: dishes are served on a huge round plate similar to an extra-large pizza pan which is lined with injera. The entrees are then arranged side-by-side with each other and a side salad serves as the centerpiece. A plate of rolled injera is also provided. Ethiopian meals are eaten with bare hands. What you do is you tear a piece of injera (a 2-inch square is sufficient) and use this to pick up morsels of food by placing it directly on top of what you want to eat. It's really quite easy — much like using a tissue to pick up something dirty off a floor. If you do it this way, you're assured that no one will get any food on their hands nor will any of the food get touched by any hands since meals are eaten family-style.
My favorite Ethiopian restaurant in town is Queen of Sheba. On this visit, our party of 4 adults ordered an assortment of tibs. Tibs resembles Mexican fajitas: seasoned meats or veggies stir-fried with onions, tomatoes, bell peppers, and spices. We got the Goden Tibs (beef riblets), Doro Tibs (chicken), Derek Tibs (sliced lean beef), and Mushroom Tibs. The chicken was served with a chickpea-based thick sauce on top which made it sort of like a stew. It was superb. The chicken pieces were tender and seasoned with mild spices. The sauce was almost Indian in flavor and consistency and complemented the chicken well. Together, it made for a flavorful stew. The riblets were also tasty but a little on the tough side. The sliced beef (I highly recommend getting this instead of the riblets) were delicious and tasted very much like beef fajitas except more lemony and herby. The mushrooms were equally as good and still had enough crunch in them. The side salad centerpiece was nothing fancy: crisp lettuce, tomato wedges, and onion slices drizzled with a spicy lemony-vinaigrette dressing. Every so often, we'd rotate the plate a quarter turn to allow each diner a chance to savor each entree (although good friends that we were, we just reached in front of each other).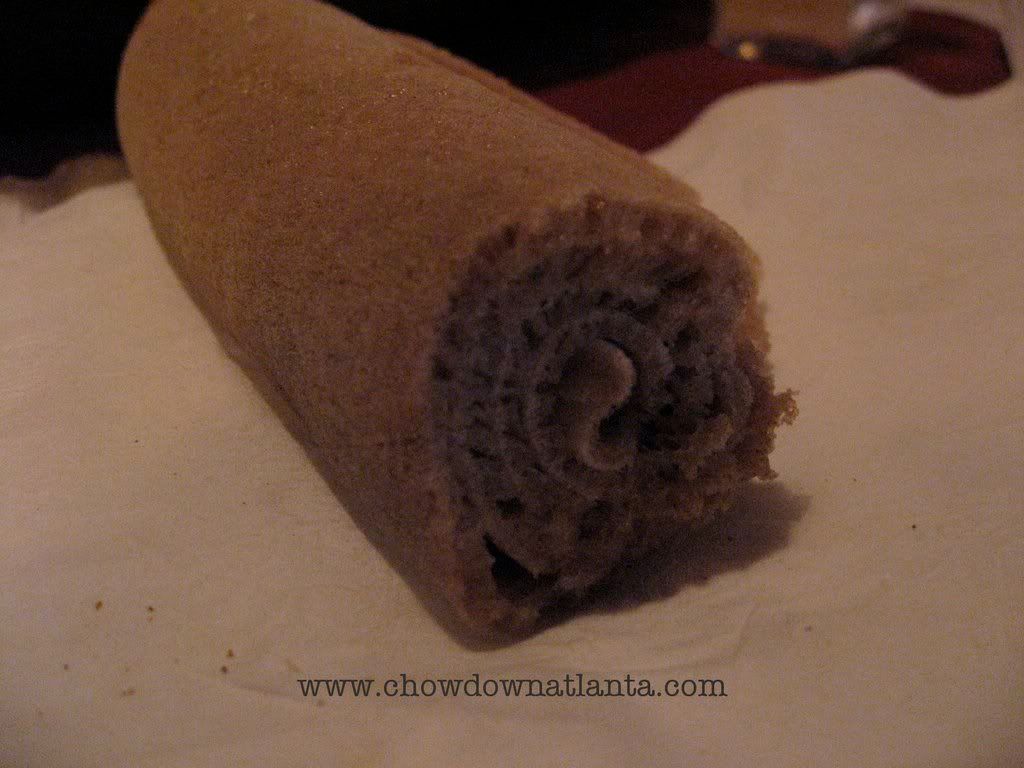 The best part of the meal is eating the gluten-free injera after it has soaked the drippings from the food. Injera borders on the sour side and this is because of the fermentation of the flour for a few days before using. It is cooked the same way as crepes or pancakes. It is also a good source of calcium, protein, and fiber. Queen of Sheba promises great tasting food, attentive servers, and great atmosphere.
Insider tip:
Be warned that the Doro Wat (chicken stew) consists of just one chicken leg. Both the riblets and sliced beef tibs taste the same so opt for the sliced beef instead. The injera tends to sit heavily in the stomach.
The scoop:
Queen of Sheba
1594 Woodcliff Dr. N.E
Atlanta, GA 30329
404.321.1493
Technorati Tags: Ethiopian cuisine, Ethiopian dining, Ethiopian meals, tibs, wat, injera, Atlanta, Ethiopian restaurant
<!– google_ad_section_end –>
Related Stories: