<!– google_ad_section_start –>
Five Guys Famous Burgers And Fries has been taking the Southeast area by storm. Touting fresh burgers made-to-order, they pride in not ever freezing or microwaving anything on their menu.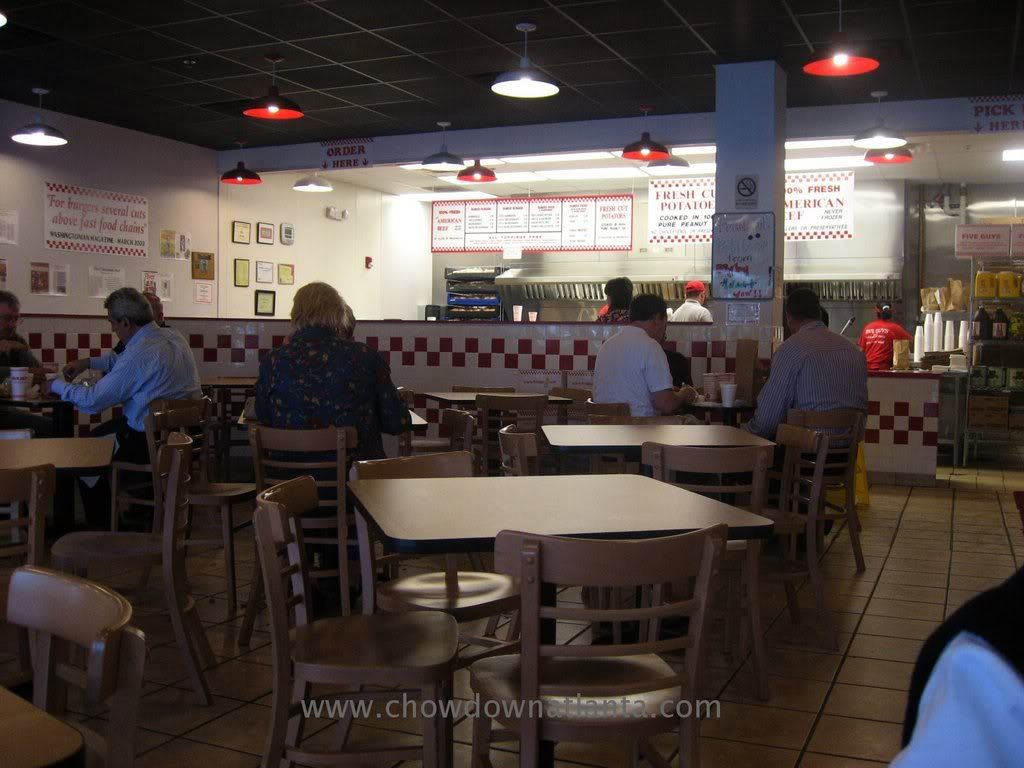 I love 5G because of their unpretentious attitude. They're not trying to be an upscale restaurant. If you can remember that and think of it as a walk-in only, step-above-"fast-food"-joint where you can get cooked-to-order juicy burgers, then you'll have a grand time at this place. And if that's not enough to wow you, then have a taste of their fries and you'll know what I mean.
While a bit pricier than your average hamburger fast-food joint, 5G seperates from them by starting with freshly-ground beef and hand-cut fries. The burgers are really good and the fries are out of this world. Although all burgers are cooked well-done, you'll hardly notice because of it's juiciness and tastiness. And with 15 toppings to choose from, you can have your perfect burger. The fries, cooked in peanut oil, are peeled and hand-cut every morning. They are fried to perfection with the necessary crispiness on the outside. So go and get yourself a 5G burger and fries and see what the rage is all about.Insider tip:
There are complimentary jumbo peanuts to munch on while waiting for your food. The regular serving of fries is good enough for two people. Try the Cajun — it's delicious.
Insider tip:
Free peanuts on the shell.
The scoop:
Five Guys Famous Burgers and Fries
Open daily from 11AM
Technorati Tags: Five Guys Famous Burgers and Fries, burgers, hotdogs, fries, fast food
<!– google_ad_section_end –>
Related Stories: