<!– google_ad_section_start –>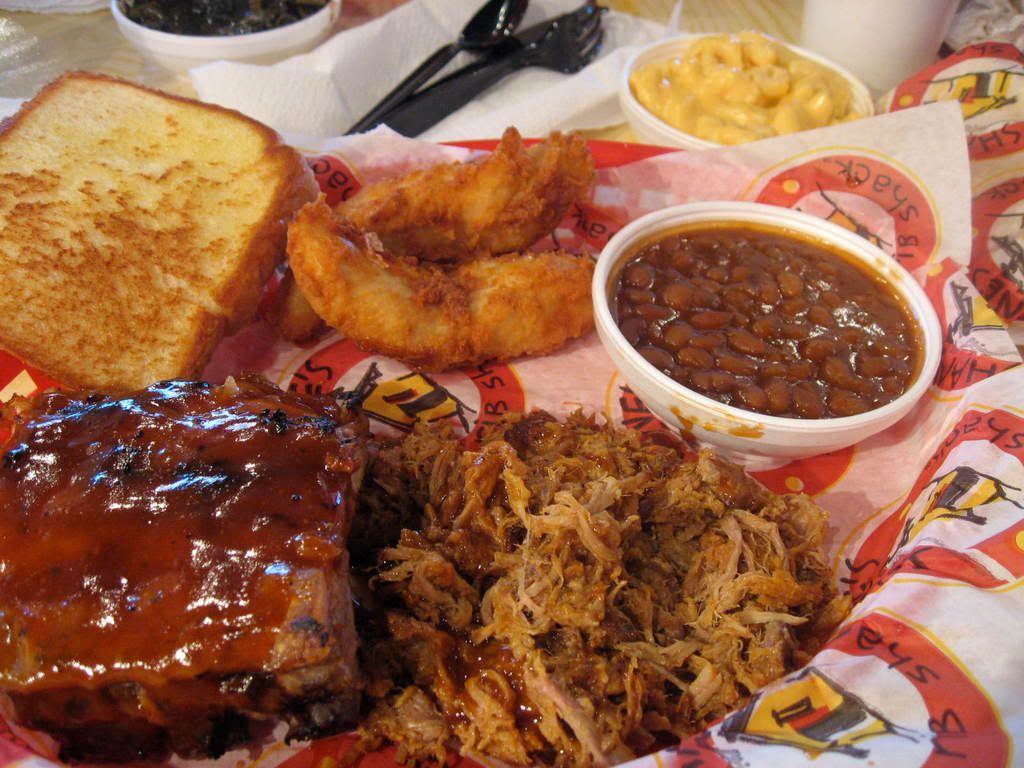 I was finally able to try Shane's and I must say I really like it. I like their barbecue because the sauce they use is sweet with just a tad of tanginess, not vinegary as others are (like Dreamland's). The ribs are fall-off-the-bone tender and are really, finger-lickin' good, with flavor all the way to the bones. The pulled pork are also tender and has that slow-cooked taste to it. The chicken tenders are surprisingly big and plump; not your average flat, skinny tenders you see everywhere. They're very flavorful and moist inside. The sides are equally good. The mac-n-cheese is creamy, the fries are crispy on the outside, the Texas toast is soft and slightly toasted, the baked beans are not mushy.
You get a lot of value for the money as servings are humongous. The picture above is the $9.99 Sampler platter with a quarter rack of ribs, pulled pork, 2 plump chicken tenders, a Texas toast, and two sides. It's a true hungry-man's lunch. Most items on the menu start at a little over $5 such as the Chicken Tenders plate with 4 big tenders and a side. While the most expensive is the Full Rack of Ribs plate with 2 sides for $12.99.
Insider tip:
Come hungry as portions are huge.
The soft and chewy chocolate-chip cookies are delicious.
Try the Peach ice tea.
The scoop:
Shane's Rib Shack
Check website for locations
Open daily at 11am
Technorati Tags: Shane's Rib Shack, ribs, barbecue, chicken tenders, pulled pork, barbecue ribs
<!– google_ad_section_end –>
Related Stories: