<!– google_ad_section_start –>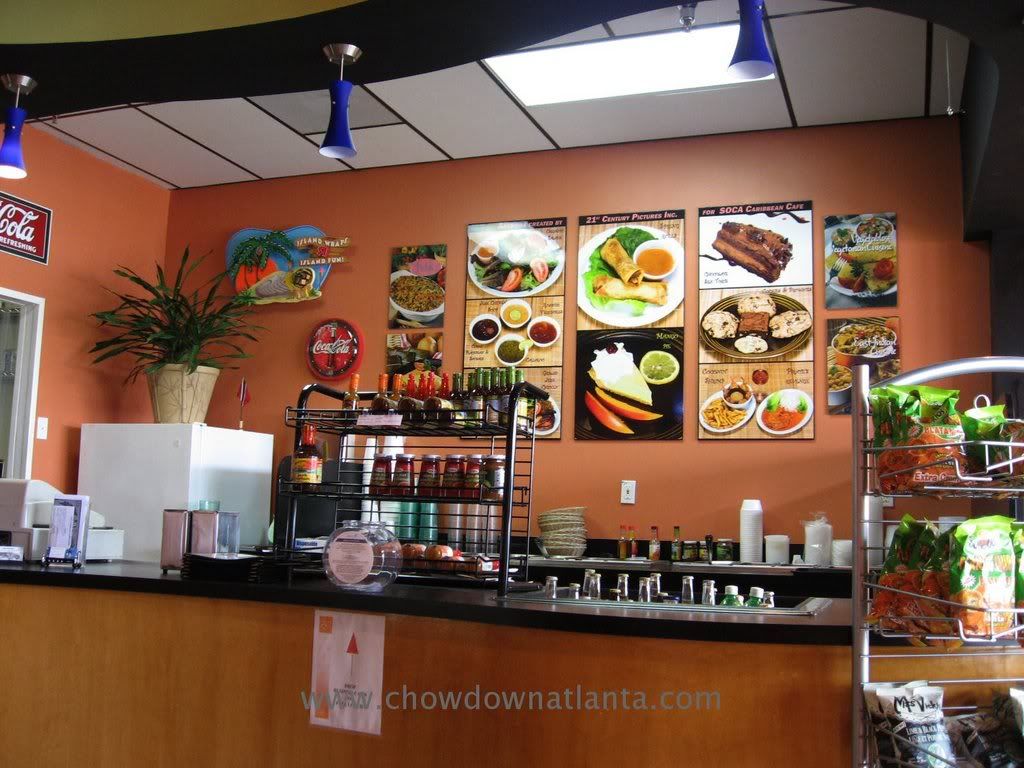 Trinidadian family owned and operated, this island fare restaurant opened late 2004 and has created a permanent imprint in the Atlanta dining scene. Borne out of frustration for lack of (decent) Caribbean restaurants in Atlanta, the Lawrence family decided to take matters into their own hands and opened a charming restaurant on Medlock Bridge Rd inside the Regal Cinema plaza. The result is a labor of love. Mom (as I have fondly called her) prepares authentic homemade dishes from scratch using fresh ingredients both found locally and from Trinidad and beyond; while son Dale (with brother Deion whom I've both known forever being a few years ahead of me at GSU) manages the operations.
While every single item on the menu is absolutely delicious, the most popular ones tend to be the pelau and roti. Pelau is probably the one dish that epitomizes Trinidadian cuisine and described as flavorful rice blended with meats and vegetables. Soca's pelau is just that — fork-lickin' good, hearty, and full of flavor. The rice is cooked perfectly, moist and savory; while the accompanying caramel chicken was, oh so fork tender, with the most amazing blend of spices. Mom told me to get the plantains for my side as she knows exactly what goes well with any dish. The sweet plantains had just the right amount of bite, not mush and soggy, though ripe enough.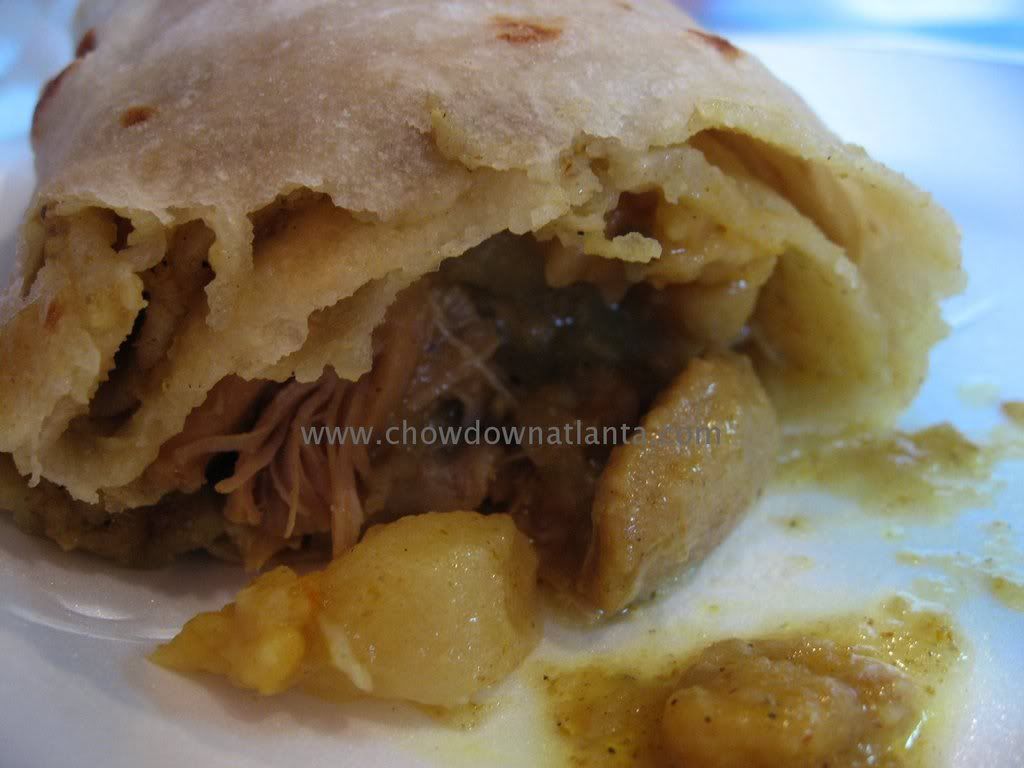 The Caribbean roti (pronounced row-tea) which resembles a burrito is a huge flour pancake enveloping different fillings such as curry chicken with potatoes. The curry chicken is the best curry you'll ever taste — melt-in-your-mouth chunks of chicken simmered for hours in perfectly-seasoned curry sauce — a real comfort food. Teamed with the not-your-usual baked mac 'n cheese, it makes for a filling lunch.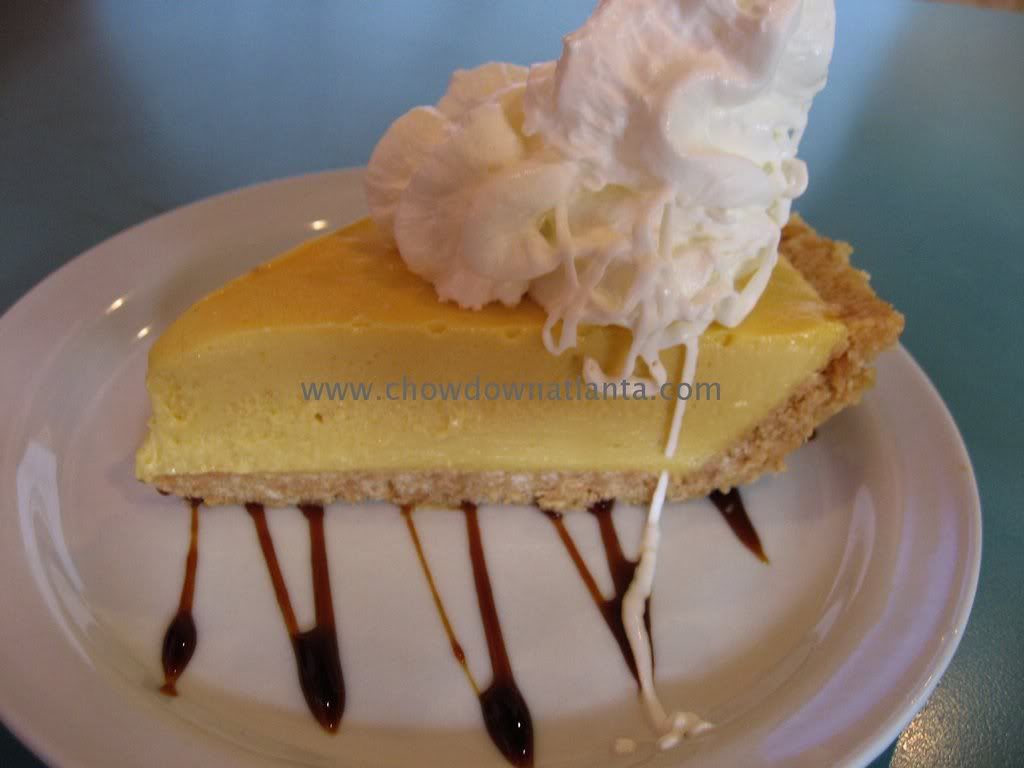 A perfect period to any meal, the homemade (by a close friend) mango pie is to die for. In fact, I'm no longer allowed to attend any parties without bringing a whole pie (or two). It is not overly sweet, with the right amount of tartness and a consistency between cheesecake and mousse. Add to that the special crust and you have the most delectable dessert.
For the more authentic tastes, I highly recommend the ox tail stew available on Fridays only (they ran out within a few hours of opening), the Callalloo soup (spinach-okra puree), and the curried goat.
Insider tip:
Kids menu available. Menu items include dishes for the hard-core and for the less adventurous as well. Whole Mango pies available for purchase.
The scoop:
Soca Caribbean Cafe
website: http://www.socacafe.com/index.html
9700 Medlock Bridge Road
Duluth GA 30097
Telephone: 770.476.0042
Technorati Tags: Soca Caribbean Cafe, Caribbean cuisine, pelau, roti, mango pie, oxtail stew, goat curry, callalloo, Medlock Bridge Rd., Regal Cinema plaza, chicken curry, Duluth
<!– google_ad_section_end –>
Related Stories: